Tagged with: #brexit , #services


July 12, 2018 2:17 pm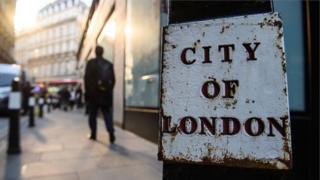 The government's plan for UK relations with the EU will restrict jobs and is a "real blow", the governing body of London's financial district has said.
The City of London Corporation and finance groups are unhappy plans for EU and UK financial services to mutually recognise rules have been dropped.
Services, including banks, insurance companies and investment firms, make up 80% of the UK economy and are one of its most successful exports to the EU.
Non-services groups were more positive.
The government wants UK financial services in future to adopt a beefed up version of a system already used by certain non-EU countries, including the US, Japan and China, whereby they agree to meet certain EU rules to keep access to the bloc.
These rules are equivalent to each other in some areas.
The City of London Corporation, which governs London's financial district, said dropping the push for mutual recognition for so-called "equivalence" would curb business opportunities with European counterparts and was a "real blow".
Equivalence v mutual recognition
Jonty Bloom, business correspondent
What is the difference between mutual recognition and equivalence?
One rational for Brexit is that the UK can adopt its own standards and regulations and get rid of all that Brussels red tape. But to ensure as frictionless trade a possible it also wants to have these standards recognised automatically in the EU, that is mutual recognition and to the EU it is having your cake and eating it as well, and therefore unacceptable.
With equivalence, the EU would decide that UK regulations in a specific area achieve the same regulatory objectives even if they do not follow the exact same EU laws. But the rub is that IT assesses whether that third country meets its standards. It normally does this industry by industry, and it can withdraw its approval at very short notice.
Settling for equivalence for services (including financial services) will therefore be unpopular with many companies who had hoped that the Treasury, which was campaigning hard for mutual recognition, would fight their corner.
'Step forward'
TheCityUK, the professional services lobby group, called the proposals for services "regrettable and frustrating".

Trade association UK Finance said that simply relying on existing equivalence arrangements would not provide financial institutions with effective market access, but it said the government was right to seek to strengthen and expand equivalence rules.

Other industry groups hailed the paper as progress.

The EEF, which represents major manufacturers, said it was "a very positive and constructive step forward", but added that more work was needed.

Stephen Phipson, the EEF's chief executive, said his group was "pleased with the focus on a simple movement of goods, the protection of the integrated supply chain and a lack of friction at the border."

The CBI said the plans were "welcome – protecting jobs and investment now and in future should be the guiding star for both sets of negotiators".

And the British Chambers of Commerce (BCC) called it a "welcome starting point" for businesses.

Tags: brexit, services


Categorised in: Business

This post was written by All Charts News