Tagged with: #crisis , #december , #programme , #stimulus


June 14, 2018 12:08 pm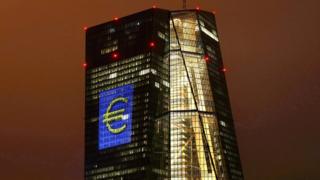 The European Central Bank (ECB) has confirmed it will end a huge programme to stimulate the eurozone economy in December.
The ECB said it would stop its bond-buying scheme, worth €30bn a month, as the bloc's recovery remained on track.
The move is a major step towards dismantling the policies brought in to stabilise the eurozone in the wake of the financial crisis.
However, the ECB said it was keeping interest rates on hold for now.
In a statement, the bank said: "The governing council will continue to make net purchases under the asset purchase programme at the current monthly pace of €30bn until the end of September 2018."
After that, it expects to reduce purchases to €15bn a month until the end of December 2018, when "net purchases will then end".
Winding down
The ECB began its asset purchase programme in 2015, years after the UK and US took similar action to shore up their economies.

It has so far pumped more than two trillion euros into the bloc's economy, while keeping interest rates at or near zero.

It argues this has countered deflation and staved off a deeper economic crisis, but has long signalled it would gradually wind the programme down, with September flagged as the likely cut-off point.

The decision will surprise some analysts, however, as the bloc's recovery has stuttered recently.

There is also mounting concern over political upheaval in Italy, higher oil prices and the threat of a trade war with the US.

Tags: crisis, december, programme, stimulus


Categorised in: Business

This post was written by All Charts News