Tagged with: #barclays , #found , #guilty , #rigging , #trader


July 12, 2018 4:49 pm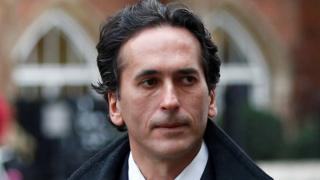 A former Barclays trader has been found guilty of rigging a key euro benchmark borrowing rate known as Euribor.
Philippe Moryoussef was convicted of conspiracy to defraud by manipulating the rate between 2005 and 2009.
The jury at Southwark Crown Court acquitted another defendant, Achim Kraemer, 51, who still works for Deutsche Bank.
Christian Bittar, a former senior trader at Deutsche Bank, pleaded guilty before the 11-week trial began.
Sentencing of Moryoussef and Kraemer is expected at the end of next week.
However, Moryoussef left the UK for France after Bittar's guilty plea was made public. It is therefore unclear if or when he will serve any time in jail.
His Paris-based lawyer, Francois De Casto, said his client was under the protection of French law and would eventually refer the case to the European Court of Human Rights.
The jury failed to reach a verdict on three other former Barclays co-defendants: Colin Bermingham, Carlo Palombo and Sisse Bohart.
Retrial decision
During the trial, the defendants denied dishonesty and said they believed they had done nothing wrong.

Criminal proceedings were brought against all six as a result of a Serious Fraud Office (SFO) investigation into alleged manipulation of Euribor.

The Brussels-based rate is used to set trillions of dollars of financial contracts. It is a cousin to the UK's Libor and is the average interest rate at which eurozone banks lend to each other.

The SFO said it would decide within seven days whether to seek a retrial of the other three defendants.

A former Societe Generale banker and four other Deutsche Bank employees were also accused of conspiracy, but the UK has been unable to get them extradited from France and Germany.

While global authorities have fined leading banks and brokerages about $9bn and charged about 30 people over rate-rigging allegations, the SFO prosecution was the first to focus on Euribor.

Tags: barclays, found, guilty, rigging, trader


Categorised in: Business

This post was written by All Charts News