Tagged with: #airports , #disabled , #failing , #found , #passengers


July 12, 2018 11:06 pm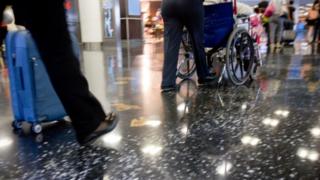 Four of the UK's 30 biggest airports are falling short in providing access for disabled travellers, the Civil Aviation Authority said.
London Gatwick airport, criticised by BBC journalist and wheelchair user Frank Gardner last year, is named as failing to meet expectations.
Birmingham and London Stansted airports are also in need of improvement, the CAA said.
Bottom of the list is Manchester, rated as "poor" for the second year running.
Mr Gardner has said airlines and airports take too long to help disabled passengers disembark from planes.
He has also criticised Heathrow for repeatedly losing his wheelchair and forcing him to stay on the plane for ages after everyone else has disembarked.
"When things do go wrong, the impact on individuals is significant," the CAA acknowledged, adding that there was still "more to do to improve journeys for disabled passengers and those with reduced mobility".
Heathrow is now one of 10 airports listed as offering "good" access, having been considered "poor" last year.
"The passenger journey on arrival is now much quicker and generally seamless from aircraft to final point," the CAA said in its comments on the UK's busiest airport.
Sixteen of the UK's top 30 airports are rated "very good" for disability access by the CAA – 10 more than last year.
The CAA said Manchester's problems centred on "long waiting times for assistance and issues with the recording and reporting of performance data".

In some cases, passengers had been left awaiting assistance for more than an hour, which the CAA said was "not an acceptable situation".

It said Manchester had acknowledged the problem and had implemented a performance improvement plan.

Gatwick, Stansted and Birmingham had been marked down for failing to provide sufficient information about their standards of service, the CAA said.

"In addition, for Stansted, we have concerns about potential delays to passengers' journeys on arrival from inbound flights."

All three airports were taking action to remedy these problems, the report said.

The CAA said there were now more than three million requests for disability assistance at UK airports annually – a rise of nearly 80% since 2010.

In all, 83% of people requesting assistance said they were satisfied with the help they received, while 54% were very satisfied.

"The vast majority of passengers' journeys go smoothly and disabled passengers should have even more confidence to travel from UK airports," the CAA said.

Tags: airports, disabled, failing, found, passengers


Categorised in: Business

This post was written by All Charts News