Tagged with: #expand , #gatwick , #invests , #north , #terminal


June 13, 2018 1:09 pm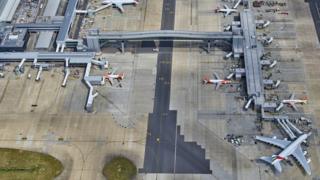 Gatwick Airport will extend part of its North Terminal as part of a £1.11bn five-year investment plan, it has announced.
The extension will help the West Sussex airport cope with rising passenger numbers, which it predicts will increase by 8m to nearly 53m per year by 2023.
The primary work includes creating six new departure gates.
About £266m of the money will be spent in the current financial year.
Chief executive of the airport, Stewart Wingate, said: "Gatwick is a major piece of national infrastructure, and our continued growth and ability to attract long-haul airlines is vital for the health of the UK economy, particularly in a post-Brexit world.
"By committing to spend another £1.11 billion, Gatwick can continue to grow sustainably, attract new airlines and offer more global connections".
Under the plans Pier 6 will double in size and the superjumbo departure area will move to Pier 5, which will be upgraded with a widened taxiway to accommodate the 80m wingspan of the larger planes.
---
Other additions will include:
New baggage reclaim in South Terminal
New reception centre for passengers with reduced mobility in the North Terminal
Mezzanine level extension in the North Terminal departure lounge with new restaurants
Completing the South Terminal long stay car park extension, providing an extra 1,200 spaces
---
A new Boeing aircraft hangar is also opening next year, and a quieter aircraft will be introduced by easyJet.

The latest round of funding will bring the total investment by the airport's current owners to £3.14bn.

Tags: expand, gatwick, invests, north, terminal


Categorised in: Business

This post was written by All Charts News