Tagged with: #amazon , #chief , #competition , #disney , #netflix , #shrugs


November 9, 2018 7:30 am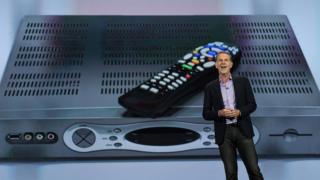 The boss of Netflix, Reed Hastings, has told the BBC he is looking forward to going up against Disney when it launches its online streaming service, Disney Plus, next year.
"We've been competing with Amazon for more than 10 years, so we're used to healthy, strong competition," he said.
"It makes us better."
But Disney Plus, which has been dubbed the "Netflix Killer", is expected to give both Amazon's Amazon Plus and Netflix a run for their money.
And Mr Hastings admitted that Disney, which reported record results on Thursday, is a "formidable" firm.
"They've got so much content [like] Star Wars and Marvel, they'll be a great competitor," he said.
"And that will push us to do the best work of our lives."
Netflix, which already has more than 130 million paid memberships in more than 190 countries, is also banking on winning more fans and boosting subscriptions across Asia.
On Thursday, the firm unveiled its plans for 17 made-in-Asia programmes to be released next year.
India is an especially huge market for the firm. It has just launched its first local production there, a crime thriller called Sacred Games.
South Korea is another big market for the company, but Mr Hastings told the BBC that China would remain a tough market to crack.
"In China, you need a government licence," Mr Hastings said.
"[And] since Apple and Disney's movie services got closed down there two or three years ago, we concluded that we would not be able to get a licence, and so we have been focusing elsewhere."
Rapid growth, troubling debt?
In its first year as a public company in 2002, Netflix had fewer than one million subscribers, but since then it has seen extraordinary growth.

The streaming giant added seven million new customers in the three months to September, bringing its global total to more than 137 million.

The results were stronger than expected and came as Netflix premiered a record amount of original programming, including new seasons of Orange Is The New Black and BoJack Horseman.

But critics have said that much of this growth is backed by unsustainable levels of debt and that the firm is burning through cash as it continues to invest in new productions.

According to Reuters data, the firm's cash flow from operations, as of 19 October, was minus $690m (£529m) for the quarter.

But Mr Hastings argues the firm's debt levels are "quite sustainable".

"We're continuing to expand throughout the world and we are investing in content ahead of our revenue.

"And what that does is attract new subscribers, which is why in the stock market we are up over 1,000% in the last five years, because that investment has been so successful."

Tags: amazon, chief, competition, disney, netflix, shrugs


Categorised in: Business

This post was written by All Charts News