Tagged with: #battle , #comcast , #escalates , #offer , #raises


July 11, 2018 10:56 pm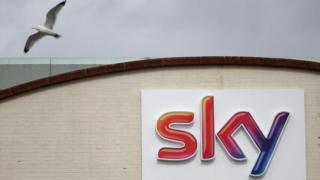 The battle for Sky intensified on Wednesday night as Comcast raised its bid for Sky, valuing the pay TV giant at £26bn.
The move by the NBC owner comes less than 24 hours after 21st Century Fox increased its offer to £24.5bn.
That topped Comcast's previous £22bn offer and is part of an escalating war between media giants including Disney.
Comcast said its cash offer has been recommended by Sky's independent committee of directors.
The company also had the financing needed for the deal, it added.
Rupert Murdoch's Fox has been waiting for approval from UK regulators before putting the deal to shareholders.
It expects to obtain the government go-ahead this week.
Comcast gatecrashed Mr Murdoch's attempt to buy the 61% of Sky his company did not already own in February while the Fox deal awaited government approval.
Comcast's initial offer was considerably higher than the Fox bid that valued the satellite broadcaster at £18.5bn.
The then Culture Secretary Matt Hancock said last month there would be no public interest concerns with a Comcast takeover of Sky.
If the Department of Culture, Media and Sport gives regulatory go-ahead for the bid, as is expected, then Fox has 28 days to notify shareholders that they need to vote on the deal.
The end of the week is also be the deadline for Comcast to post an offer to Sky shareholders, who then have 60 days to consider that offer under UK takeover rules.
The skirmish for control of Sky is being fought in the shadow of an even bigger battle – a struggle for control of prized entertainment assets owned by Fox, including its stake in Sky.
Disney and Comcast are locked in a battle for those businesses, which include movie studios, cable channels, National Geographic and a 30% stake in video website Hulu, as well as Indian network Star.
In June, Disney raised its offer for the assets to $71.3bn (£54bn) in cash and shares.
Under the deal, Fox would keep Fox Sports, Fox News and Fox Television Stations and make them into a new company called "New Fox".
Established media companies like Disney are looking for deals that would help them meet the challenge of fast-growing rivals including Netflix and Amazon.
Tags: battle, comcast, escalates, offer, raises


Categorised in: Business

This post was written by All Charts News