Tagged with: #again , #tesla


August 10, 2018 9:01 pm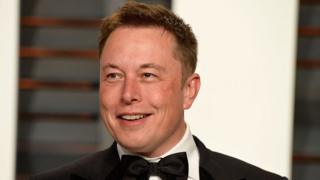 Will Elon Musk lose his magic touch?
That was the question on Wall Street this week after the Tesla chief startled investors with a tweet saying he had secured funding and was considering taking his electric car company private.
The firm's shares spiked after his statements, which called for purchasing shares for $420 a piece – about 20% above their value at the time.
But shares retreated later in the week as doubts set in about the likelihood of the plan and his ability to back up his claims.
Experts in securities law say if Mr Musk's tweets are found to be misleading, he may be in trouble.
But Mr Musk is no stranger to the hot seat.
Since he burst on the Silicon Valley scene in the 1990s, he has faced down financial risk at his companies, confronted questions from regulators and feuded with investors, colleagues and the media.
All the while, he has won billions of dollars from investors and the government and attracted a passionate fan base, which credits him with pushing the car industry to adopt electric vehicles and reigniting interest in exploring outer space.
Mr Musk's ability to emerge from the clashes largely unscathed has drawn repeated comparisons to Teflon.
Here's a look back at some of the earlier controversies.
Founding feuds
Mr Musk, who was born in South Africa, made his name at Silicon Valley start-ups in the 1990s: Zip2, a kind of online directory and X.com, a finance start-up that eventually became PayPal.
His time at the companies involved turmoil, as he contended with other leaders for control, Ashlee Vance recounted in his 2015 biography, Elon Musk: Tesla, SpaceX and the quest for a fantastic future.
At the banking start-up, executives eventually forced Mr Musk from the role of chief executive, in part due to concerns that Mr Musk wasn't being transparent with the board about the firm's challenges.
But the eventual sales of the companies – Zip2 to Compaq in 1999 and PayPal to eBay in 2002 for $1.5bn – meant Mr Musk came out ahead – taking home more than $150m after taxes.
Tesla and SpaceX
Mr Musk poured his fortune into a rocket company, SpaceX, and Tesla, which he led as chairman of the board, taking on the role of chief executive in 2008.
Those ventures would also face problems, repeatedly failing to hit their own deadlines.
The most desperate moments came in 2008, when SpaceX suffered a third rocket crash and Tesla's rising costs threatened to ruin the firm.
SpaceX scraped through thanks to a new government contract. It now does routine business with the government; this year, it successfully launched its most powerful rocket yet.
As for Tesla, a last-minute financing round, as well as backing from Mercedes-Benz owner Daimler and Toyota, plus a $465m loan from the Department of Energy, helped it survive.
In 2010, the firm listed its shares, raising more than $200m. The firm's market value now exceeds Ford and General Motors.
"SpaceX is alive by the skin of its teeth, and so is Tesla – if things had just gone a little differently, both companies would be dead," Mr Musk said at the South by South West conference this year.
SolarCity scrap
Intrigues involving Mr Musk, however, were far from over.
In 2016, Tesla proposed to purchase SolarCity, a money-losing solar power company that was backed by Mr Musk and other board members and run by his cousins.
The deal won shareholder backing, despite the concerns about conflict of interest.
But some investors sued, accusing Tesla of bailing out the firm in a breach of fiduciary duty, in order to salvage their own reputation and fortunes.
That case is still active.
At the time of the acquisition, Mr Musk said SolarCity would contribute $1bn in revenue in 2017 and over $500m in cash over three years.
Tesla does not detail finances for SolarCity, which has undergone significant changes since the merger.
The solar business had "slightly positive cash flow" in 2017, it told investors this year.
Tesla troubles
Tesla's financial pressures have mounted this year, as the company spends heavily to increase production of its next car, the Model 3.

The situation resembles the scenario Tesla faced in 2012 and 2013, as it ramped up delivery of its Model S sedan.

That time, the firm surprised investors when a surge of sales produced a surprising quarterly profit.

Mr Musk appears to be aiming for a repeat performance.

On 1 August, as Tesla reported another record loss, he said he expected the company to be profitable in the second half of 2018 – and every quarter going forward.

It's not entirely clear how committed Mr Musk is to that position.

On the call, he said focus on the bottom line would not force the firm to make trade-offs, but just a few days later, he appeared to reverse his view.

"Being public … subjects us to the quarterly earnings cycle that puts enormous pressure on Tesla to make decisions that may be right for a given quarter, but not necessarily right for the long-term," he wrote in a memo to employees that explained his rationale for considering de-listing Tesla from the stock exchange.

If successful, the buyout would mean heavy losses for the investors that have staked billions betting that the firm's shares will fall.

So far, few have changed their positions, says Ihor Dusaniwsky, managing director of S3 Partners, a financial analytics company.

So will Mr Musk pull off the plan, refuting the naysayers as he has before?

For him and many others, billions ride on the answer.

Tags: again, tesla


Categorised in: Business

This post was written by All Charts News