Tagged with: #arrives , #flight , #longest , #World


October 12, 2018 10:19 am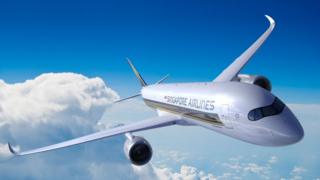 The world's longest non-stop commercial flight has landed New York, beginning a journey in Singapore covering more than 15,000km in 17 hours and 52 minutes.
Singapore Airlines has relaunched the service five years after it was cut because it had become too expensive.
Flight SQ22 landed at 0529 US Eastern time with 150 passengers and 17 crew.
Geoffrey Thomas, editor-in-chief of Airlineratings.com, said the time passed swiftly and had not seen like a 17 and a half hour flight.
He told the BBC: "The flight was effortless and very smooth.
"On board the concensus was that the time past very quickly and didn't seem like 17.5 hours."
The inaugural flight from Changi Airport to Newark's international airport, which services New York, took off amid much fanfare.
Qantas launched a 17-hour non-stop service from Perth to London earlier this year, while Qatar runs a 17.5-hour service between Auckland and Doha.
Did passengers snap up the tickets?
Singapore Airlines (SIA) said there is demand for customers for non-stop services which help cut travelling times compared with flights which have a stopover.
Ahead of the take-off, the airline told the BBC that business class seats for the flight were fully booked, and there were "a very limited number" of premium economy seats left.
A business class ticket entitles passengers to two meals, and the choice of when they are served, plus refreshments in between. They will also have a bed to sleep in.
Premium economy fares get three meals at fixed times, with refreshments in between.
The airline said it is not planning to offer any economy bookings on the route.
What's longer-term demand look like for 19 hour flights?
The brand new Airbus plane that SIA is using has been configured to seat 161 passengers in all – 67 business passengers and 94 premium economy passengers.
Geoffrey Thomas said: "This is a route between two massive financial hubs, and so they will fill this plane up with business people, or well-heeled travellers who want the convenience of a non stop flight.
"It's also been proven that when carriers introduce a new non-stop route, the traffic on that route increases threefold."
Mr Thomas, the editor-in-chief of airline rating site Airlineratings.com, has been on several such inaugural flights, including Qantas' new long-haul from Perth to London, inaugurated earlier this year.
Qantas meanwhile is in advanced discussions with Airbus and Boeing over an aircraft capable of making a 20-hour flight between London and Sydney.
The Australian national flag carrier also plans to fly non-stop from Australia to New York – slightly shorter than the London-Sydney non-stop flight.
But Max Kingsley-Jones, group editor of Flight Global, warned that plans for new non-stop routes had a habit of changing in line with the economics of the world.
"In the boom times you get a lot of what we call direct-connect flights between smaller cities… [then] each time there's a downturn you see all those tail off, and then we go back to people flying over hubs," he told the BBC's Today programme.
"Even though it costs more for an airline to fly over a hub, they'll always charge you less because of the disadvantage of going via somewhere else."
Is this the future of long-haul travel?
The A350-900 ULR (ultra-long-range) that set off on Thursday from Singapore to Newark belongs to Airbus' family of long-range, twin-engine aircraft.

The planes have been designed to replace Boeing's older 777 series and use between 20% and 30% less fuel than the 777s did – which is a good thing amid rising oil prices.

Singapore Airlines launched the same non-stop route between Changi and Newark in 2004, but by 2013 the carrier was forced to cancel it. The A340-500 it was using at the time used a lot of fuel and eventually the route became too expensive to run.

Several carriers already use the newer A350-900s on their long-haul routes. They have higher ceilings, larger windows and lighting designed to reduce jetlag – all good things for busy business travellers.

But the ultra-long-range version that SIA has bought from Airbus has the longest capability of any aircraft flying today, thanks in part to a slightly modified fuel system.

It can fly for 20 hours non-stop, which most aviation experts will tell you is the future of very long-haul travel for business and pleasure.

Mr Thomas says it's been proven over and over again that people want to fly non-stop, "so these sorts of aeroplanes are set to gain terrific momentum".

"Qantas' flight from Perth to London is seeing a load factor in economy of 92% – and in premium it's 94%. So from an airline perspective, these routes are money-making.

"We really are entering a new era of travel."

Tags: arrives, flight, longest, World


Categorised in: Business

This post was written by All Charts News